Introduction
Many factors combine together to affect the health of individuals and communities.  These determinants of health are illustrated in Figure 1 and include the social and economic environment, the physical environment, and the person's individual characteristics and behaviours.
Fig 1 Determinants of health - Barton & Grant (2006) WHO accessed (2015)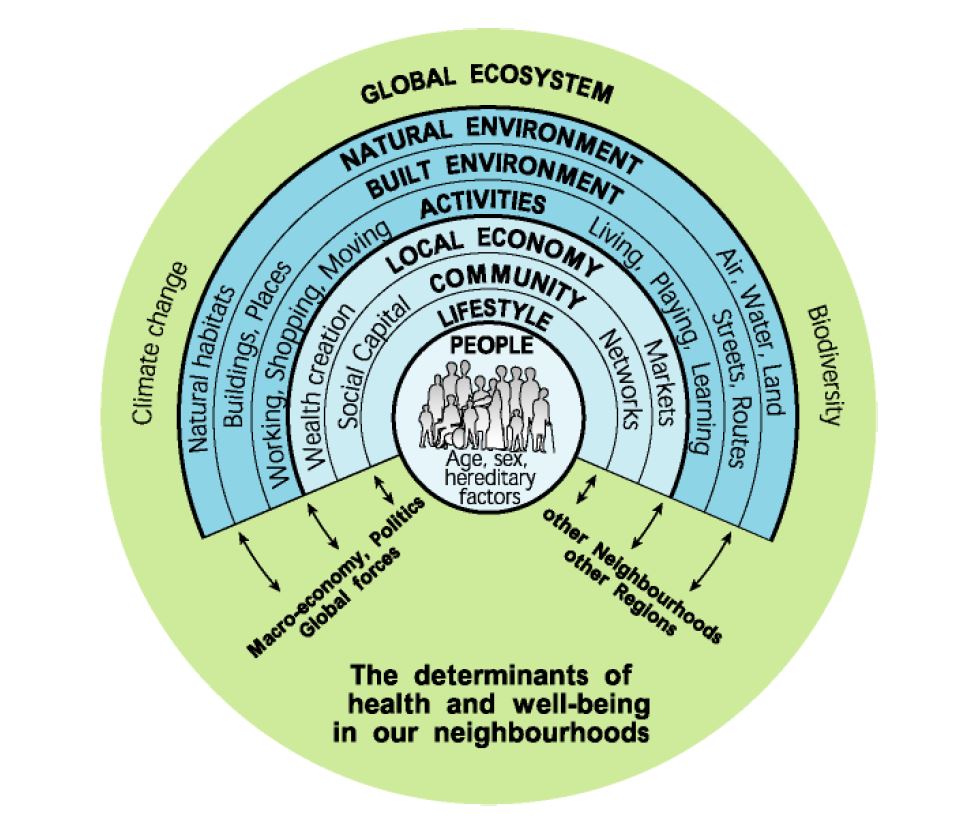 This Joint Strategic Needs Assessment (JSNA) identifies the strategic, policy and commissioning needs that will reduce Excess Winter Deaths (EWD) in Nottingham.
The term "Excess Winter Deaths" (EWD) describes the additional number of people who die in winter compared with the spring summer and autumn months. The Excess Winter Death Index (EWDI) explains EWD as a proportion of the expected deaths based on the number of non-winter deaths (commonly expressed as a percentage). EWD are affected by a variety of aspects through each level.
A higher excess winter mortality rate is found in the UK than in many European countries which experience colder winters.  Out of the total population of 330,734 in Nottingham, an average of 3,000 people died per year between 2007/8 and 2012/13.  Of those, an average 140 were excess winter deaths. Public Health Mortality Files ONS (2015).  A full list of the groups of people at greater risk of harm from cold weather, are identified in the main section.
Age is the strongest risk factor and otherwise "frail" older people, with an estimated 70% of EWD in the City being in people aged over 75.  However, due to health inequalities, in some areas of Nottingham, people 65 and over are at greater risk.  This is true particularly for older people living alone, who do not have additional social services support.  Children under age five are also at risk and cold damp housing affects educational attainment and life chances of children at all ages. Other at risk groups include people and children with learning disabilities, mental health problems, pre-existing chronic medical conditions such as heart disease, stroke, asthma, chronic obstructive pulmonary disease or diabetes. 
Unmet needs and gaps
Although some progress has been made, many of the gaps in knowledge and services identified by NHS Nottingham City (2010) are still relevant today:
Knowledge and research gaps:
Whilst some social housing landlords have data about households most at risk of EWD, there are insufficient shared knowledge and tools to be able to identify these systematically across all tenures.
there is a lack of systematised knowledge by frontline health and care staff and their managers about what works, to motivate an increase in the level of referrals
there is a lack of understanding of what works to promote behaviour change (both indoors and outside) to reduce cold exposure
more information is needed about the projected impacts of climate change on vulnerable people in Nottingham.
Service gaps:
Although some social housing landlords have good data to target their most vulnerable households, there is a lack of access and use of comprehensive available data.  This is in part due to the guidance that prevents organisations share data
there a lack of capacity to systematically target vulnerable households who do not respond to existing programs, to ensure they gain access to energy efficiency improvement services
under access of pension credit is an issue for older people in Nottingham.
there are too few referrals to energy efficiency services of vulnerable householders from frontline health and social care staff
there are insufficient resources to operate targeted energy advice services in the homes of the most vulnerable householders
there is a lack of systematic public and professional awareness of the health problems associated with cold exposure and services available to tackle these
there is a perceived lack of consistent strategic high level support and leadership for a comprehensive and systematic approach.
Recommendations for consideration by commissioners
A full list of recommendations is in the main section.  The key recommendation is for a system-wide approach to assess the nature of the problem, including the likely forthcoming impacts of climate change on vulnerable populations.  The Health and Wellbeing Board, supported by the Nottingham Health and Housing Partnership Board, should develop a strategy and action plan that takes account of information and guidance from this JSNA and builds on local builds on local good practice.